Centers for Learning Excellence
Thrive Point
Centers for Learning Excellence
ThrivePoint High Schools Centers for Learning Excellence embody a revolutionary approach to education, dedicated to removing barriers and providing a high-quality learning experience for all students. With over 20 years of industry experience, ThrivePoint has pioneered an exclusive student success model that fosters engagement and empowers students for future success. The key to this model lies in the departure from the traditional school "campus" model, where teachers are burdened with large class sizes of 40+ students.
Instead, ThrivePoint's Centers for Learning Excellence are strategically designed to support students in a personalized manner, providing access to Student Success Coaches who are available in-person, virtually, over the phone, and via email from various locations across the State of Arizona. The Centers for Learning Excellence serve as hubs of academic support and guidance, ensuring that students receive the assistance they need when and where they need it the most. These centers are not bound by physical campuses but are flexible and adaptable to the diverse needs of students.
The Student Success Coaches play a vital role in providing individualized support, helping students navigate their academic journey, and facilitating engagement and empowerment. Through personalized attention, access to resources, and innovative use of technology, ThrivePoint's Centers for Learning Excellence empower students to overcome obstacles, excel academically, and prepare for a promising future. ThrivePoint High Schools' Centers for Learning Excellence embody a student-centric approach, rejecting the limitations of traditional educational models. By prioritizing personalized support and embracing flexibility, ThrivePoint enables students to thrive in their learning journey. The dedicated Student Success Coaches serve as mentors, advocates, and resources, ensuring that students receive comprehensive guidance and encouragement. Through the integration of technology and the accessibility of coaching across various platforms, ThrivePoint High Schools create an environment where engagement, empowerment, and student success are at the forefront. The Centers for Learning Excellence are the driving force behind the transformative education experience offered by ThrivePoint, paving the way for students to reach their full potential and prepare for a successful future.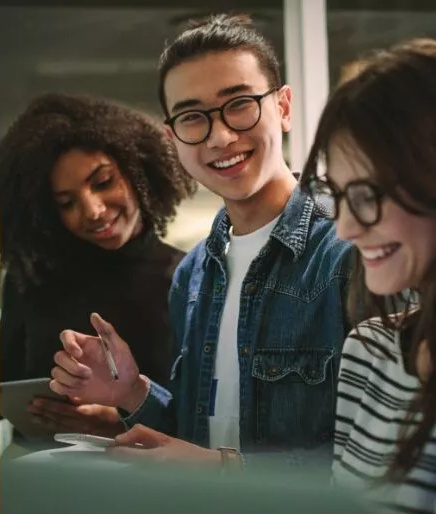 Can I Attend Classes

At One Of Your Centers?

Absolutely! Our Centers For Learning Excellence provide students with a variety of options, from a traditional classroom setting for those who wish to attend a more traditional school, a hybrid model where students are able to work from home or come in to an open lab format with peers when needed, or as an online support center where students can go to receive one-on-one support from certified teachers. Our Center for Learning Excellence educators are specifically trained and encouraged to identify what a student's needs are and ways they can meet them. They are challenged to ask, "What else can I do to help you be successful?" The goal is to dig deeper. Learn more. They are encouraged to find ways to engage students in a manner they are responsive to. By providing students and parents with a physical location they can go to for support, we find that students are more successful and better prepared for their next big step.
Does It Cost Money

To Visit One Of These Locations?

Our program is 100% tuition free and does not cost a single dime for students and parents who need extra support. It is our job, our responsibility, to prepare students for their next big step in life and our Centers for Learning Excellence are just one of the ways we facilitate that.
One-On-One Support Designed To Support You!
Each of our Centers for Learning Excellence have been designed to provide students and parents with all of the tools and resources they need to be successful. From computer access, to textbooks and tutoring, we've pulled out all of the barriers to student success. As a fully accredited, tuition free high school, we provide students the ability to work at their own pace, whether you need to catch up on credits or would like to accelerate your graduation, we have a pathway for you!