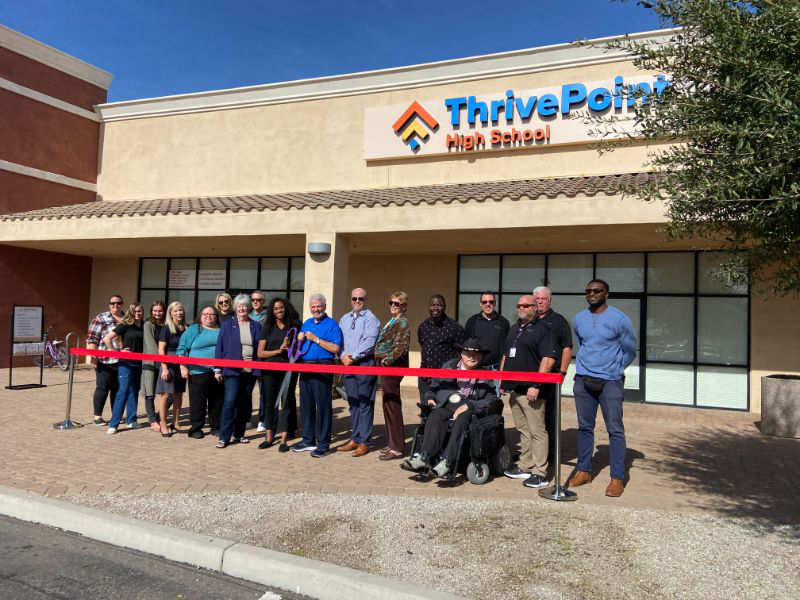 Career and College-Readiness
November 24, 2021
ThrivePoint Surprise Ribbon Cutting Ceremony
On Friday November 19th, the ThrivePoint High School Surprise campus held our official ribbon cutting ceremony to formalize the rebranding of our school from e-Institute! We have been waiting for this day for a very long time, and couldn't be happier that the day has finally come. The event was hosted by Kris Cassens of the Surprise Economic Development Department. Kris's high energy and bubbly personality were exactly what we needed to start this fun day! We were also joined by members of the Learning Matters Educational Group executive team, Surprise Mayor Skip Hall, fellow LCCs from other ThrivePoint campuses, the Surprise Regional Chamber of Commerce, and a few guidance counselors from Valley Vista High School down the street. The turnout was amazing and we couldn't believe how many people we had supporting us.
A quick speech was given by Learning Center Coordinator McKenzie McClanahan, thanking everyone for their support and continued partnerships. Afterwards, we grabbed our giant scissors and cut the ribbon while everyone cheered! We had the event catered by Sip, Blend, and Brew—a local mobile beverage truck. The adults and students all enjoyed grabbing a free handcrafted coffee, lemonade, Italian soda, or smoothie after the ceremony commenced. We also invited everyone inside for some donuts, a meet-and-greet with our staff members, and a tour of our campus.
We are so grateful and thankful to all attendees who have been with us for every step of the way and took time out of their busy schedules to celebrate with us!